Last Monday the battle for the Majorca Open 2018 title began. The best tennis players in the world will play against each other this week on the courts in this third edition of the tournament.
The competition will take place at the facilities of our project. Completed in 2016 by GRAS Reynés Arquitectos, the complex has 5 grass courts and 5 clay courts. Currently, the former are being used by the world number two, the Mallorcan Rafa Nadal, to prepare and adjust his game before the Wimbledon tournament.
Among the constructions carried out in this project, we must highlight the central court and the club house.
In the central court, which can accommodate a total of 1500 spectators, you can appreciate the marés stone used as the main material in its grandstands. This material, typical of Mallorca, is frequently used in the designs of GRAS Reynés Arquitectos; a good example of this is the project, where the mares stone is the main element of the design.
The location of the clubhouse, at the top of the plot, allows it to function as a viewpoint. The glazed walls on the ground floor offer refuge and allow you to enjoy with a certain calm what happens outside. On the other hand, the cantilevers on the first floor and on the roof have been designed to provide an unbeatable view of the matches played on the central court, as well as panoramic views of the entire complex.
In fact, the final of the Mallorca Open 2018 tournament will take place on the centre court of the in Santa Ponça on Sunday 24th June.
It is important to remember that all spectators attending the tournament throughout the week will also be able to enjoy the training sessions for adapting to the grass track, that Rafa Nadal will carry out on court nº5.
To learn more about the Mallorca Open 2018, visit their website: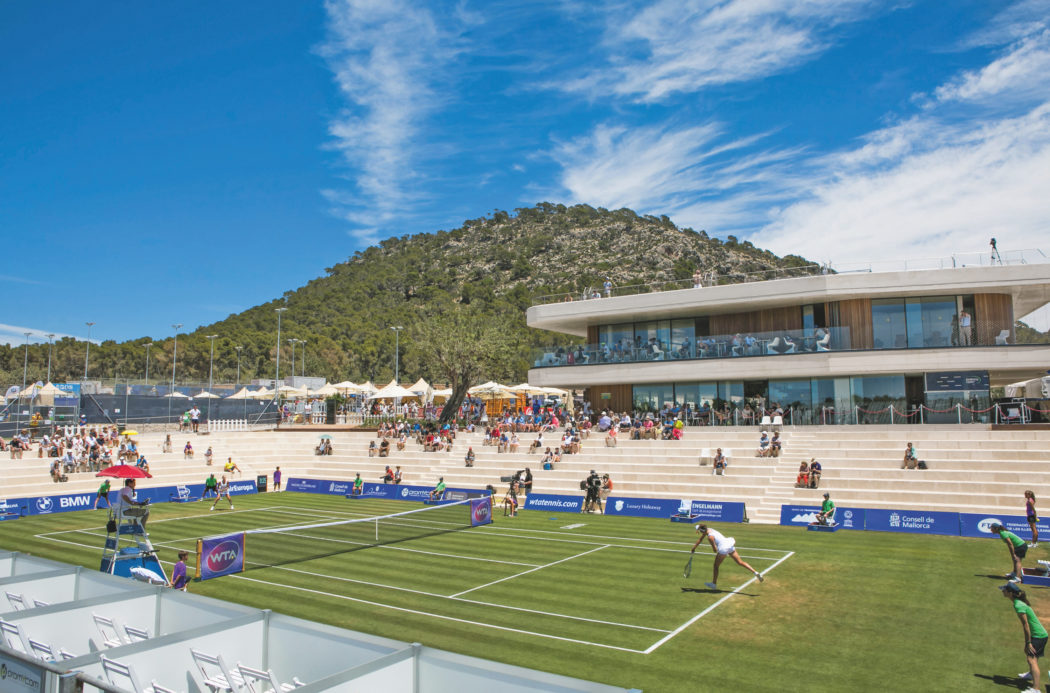 Pics © Mallorca Open
Take a look at the project to learn more!